If you're looking for your next job as an account manager, you're going to need to be able to provide a proven track record of success to potential employers. You can do this by crafting a strong CV. 
How to write an Account Manager CV 
To write a tailored account manager CV, you'll need to include plenty of detail relating to your work experience, achievements and skills that you have that you think make you the ideal candidate for the job.
You should also make a conscious effort to ensure the layout of your CV is neat and tidy, and proofed for errors. 
Below we'll look further into the finer details on how to create a powerful CV that will land you an interview for account manager jobs.
Contact details
Your contact details should be at the top of your CV – you don't need to write a title 'Curriculum Vitae' this is just a waste of space. If you've applied directly to a job, then employers will understand what this document is. You can set your contact details out like this:
George Patterson
20 Elm Avenue
Manchester
M16 3TH
 Top tip: Instead of adding Curriculum Vitae as your title, instead put the job title you're applying for to grab the recruiter's attention 
Personal summary
A personal summary is a small paragraph that sits underneath your contact details – so it's the first real insight recruiters will see relating to your experience, which is why it's so important. 
You personal summary should be around 100 – 200 words in length, and highlight who you are, your key skills and ideally, your ambitions.
This section should be tailored to your employer and their job description, so play close attention to the type of person they're searching for when you read it.
A personal summary for an account manager might look something like this:
A target oriented, driven account manager with 7 years' experience in developing strong relationships with clients. Confident and organised with a proven track record of success in account handling, I strive for client satisfaction. A skilled communicator with a human approach, I am a forward thinker with creative ideas that solve problems. Always task-oriented, I succeed client expectations and implement account direction positively.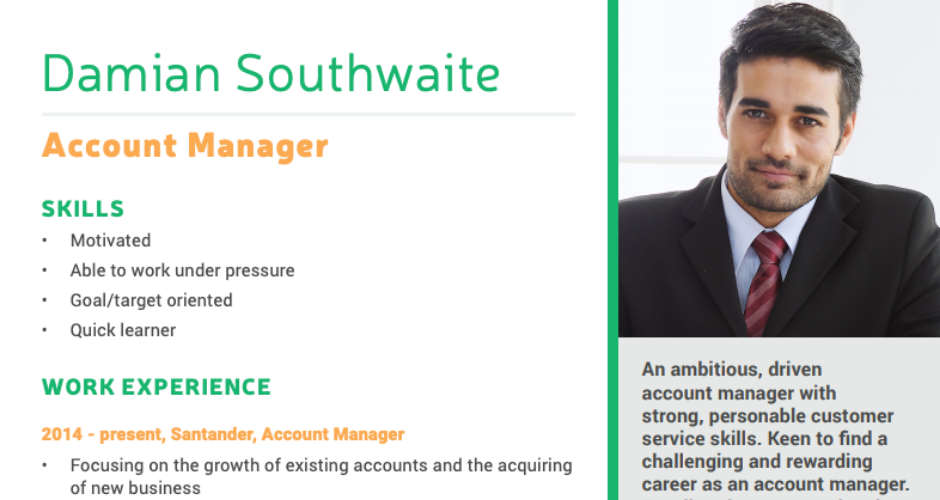 Skills
Has the job description outlined essential and desired skills? Then you should definitely showcase the relevant skills you have so that it really stands out to them on your application. Outlining your skillset helps the recruiter to clearly identify how well you could perform in the role, so this section is a must.
Skills a successful account manager might include on a CV might involve:
Leadership skills
Problem solving
Excellent communication skills
Proven business and strategy planning
Adaptability
Competent with computers and comms technology e.g Zoom, Skype etc.
Able to develop and maintain relationships
Can work under pressure
Previous experience in account management
Work experience/Employment history
This is an important and essential part of your CV, where you can outline relevant experience that could strengthen your ability to do the job in question. 
If you have a significant amount of experience, try to keep each job section short, by bullet pointing just the key responsibilities. If you're new to account management, consider including your education section on your CV first, and then including relevant work experience afterwards. 
You should include all relevant work experience, and try to make sure there are no gaps in your CV. It might look something like this:
Account Manager – Simple Sales Jobs
July 2017 – present
Responsible for handling key accounts and maintaining relationships with clients by delivering advice and guidance on recruiting performance. 
Responsibilities:
Growing existing accounts
Acquiring new business 
Monitoring performance of account and suggesting changes to job adverts/recruitment methods where necessary for maximum performance
Presenting data to clients to suggest necessary response and support theories on improving account
Working to business growth plans
Liaising with clients
Working closely with Sales Manager to achieve monthly and quarterly targets
Organising and hosting workshops for the team based on account management best practice
Hobbies 
Many people choose to leave this section out, but we would challenge you to leave this in – why? Because communicating your interests to a potential employer can help them to identify your personality and skillset.
For example, if you play a team sport regularly, recruiters can see that you are competitive and good at working in a team. If you like to paint or design homemade furniture, this can suggest you are creative. 
So don't count this section out – recruiters can gleam alot from it. 
More tips for your CV
Below are a few more tips for your CV to ensure it stands our from the crowd:

Want more advice for your CV? Download our CV guide now: 
[simplyjobs site_url="https://www.simplysalesjobs.co.uk/" placement="post" site_name="Simply Sales Jobs" username="SEO_TEAM" password="fmgseo" feed_identifier="blog_account_manager" category="Account Manager jobs"][/simplyjobs]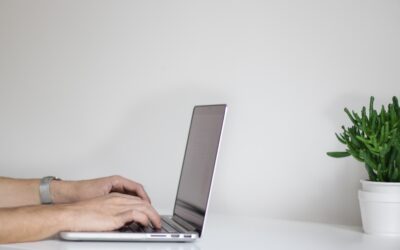 Simply Sales Jobs and TopCV partnership Simply Sales Jobs, the leading job board for the sales industry, and TopCV, the world's leading CV‑writing service have partnered to support candidates in getting hired faster with a job-winning CV. The partnership will see...