We recently caught up with Angela Bradby from Link Resources to find out the major challenges that recruiters are now facing during these unprecedented times. This is what she had to say…
"The spread of COVID-19 has had considerable effects on the global market — but this is merely the start. The recruitment sector faces specific challenges at that time, as face-to-face interviews aren't any longer potential with social networking measures.
Talent acquisition has always been a demanding field. In the past couple of decades, its chief challenges have focused on discovering talent quickly and economically, even as unemployment grew smaller and smaller. But in the aftermath of Coronavirus, recruiting leaders and their groups cooperate with a host of new problems that are morphing and expanding daily.
In the brief term, ability acquisition teams are rushing to figure out ways to make a high-touch individual process a virtual one. They're figuring out how to effectively work at home, run video interviews, and create successful offers (to applicants whom the hiring supervisor might not have fulfilled ), and liberally onboard new hires.
And as replies to all those concerns bubble, broader issues surface. There's been a decrease in hiring in many businesses while in the requirement for new folks has jumped. The Budget's aims and headcount are getting severe reconsideration, which leaves recruiting leaders wondering exactly what to do with their teams, who are mostly unprepared for a world of work where they may have time in their hands.
Despite these constraints, recruiting agencies can remain up and running. Like all companies, your recruitment firm needs to have a business continuity plan to form your response to unique circumstances such as the Coronavirus outbreak.
A fantastic strategy should reevaluate the effect of the pandemic on your employees and IT infrastructure. It also needs to protect your company reputation, reduce the fiscal impact, and empower your agency to come back to normal again whenever possible.
What Steps Can You Take to Keep Your Recruiting Agency Running?
Together with executing your business continuity program, you will find actionable measures recruiting agencies may take to mitigate the Coronavirus outbreak's negative impacts. These are:
Organise, manage
Stay attached
Continue daily tasks
Utilise the cloud to share
Re-imaging the way you operate and handle risk
Help Your Employees
The Coronavirus epidemic has popularised the growing tendency of remote functioning. Though social distancing has pushed many businesses to implement teleworking, the requirement was there earlier — and it is projected to rise by 30% by 2030.
Remote functioning, however, poses difficulties for the recruiting market. For professionals who rely on in-person interviews and travelling, homebound work may seem to limit. However, this pandemic introduces recruiters with greater chances than they perceive. Candidates inaccessible for interviews are now in the home, prepared to shoot your video conference telephone.
As a business, you will need to present your recruiters with the ideal infrastructure to operate remotely. If they are used to company travel, they will likely already have protected business devices to function from. You will also need to safeguard your recruiting staff has the correct bandwidth within their home systems to conduct regular operations. Some businesses market WiFi hotspots to companies that could satisfy this demand.
Stay Connected
Among the most crucial approaches to take on operations for almost any company is keeping workers connected and upgraded. And as a recruitment service, you would like your recruiters to remain connected to your customers and potential candidates. Internal stations and discussion groups are fantastic ways to keep your staff current and to facilitate productivity while everybody's working remotely.
You might also leverage messaging programs when communicating with project candidates. At this time, it is vital to close the information loop with potential hires so that they are not left with much more ambiguity than they have.
Free messaging programs like WhatsApp help you keep connected and video conferencing software such as Zoom. With applications like Crises Control or Hotmail Alerts, it is possible to configure important updates that are sent from your group.
Continue Daily Tasks
One other important element for business purposes is completing the same job you usually will, as carefully as you can handle. Most recruiters and headhunters can perform their tasks remotely due to video conferencing applications and other electronic tools.
Ensure that your staff can still perform their jobs efficiently by placing them up with the ideal programs and programs. If you are an immense recruiting service, you may require staff to get your system to recover files. With Remote Desktop Services and Citrix Workspace, workers can quickly access the organisation's network remotely.
If you'd like your workers to continue their jobs as efficiently as possible, you will also need to allow for more flexible programs. Working at home can pose difficulties for many staff members, who have to balance their own home and professional life considerably more cheaply.
When managing maintenance for children or relatives, who can also be stuck in the home, regular work schedules may be impossible. As you need to provide for and invite your recruitment team to finish the identical daily activities, you need to expect and let different working hours.
Utilise the Cloud to Share
Migrating into the cloud is among the greatest methods to transform your recruiting bureau's IT. Many cloud options are available, whether you want storage, direction, or calculating. By saving your documents and even running your IT system in the cloud, then you can remove the need for servers in your office area. You could even select from one of many subscription-based programs with cloud solutions, paying for just the features you want.
For groups that have lately become distant as a consequence of the Coronavirus pandemic, cloud providers would be the most logical alternative for maintaining productivity. If your recruitment agency utilises Microsoft Office products, you are able to keep doing so together with the online Office 365. Should you have to transfer huge files to a group member, you may even utilise secure transfer programs like WeTransfer.
Way You Operate and Handle Risk
During a crisis, among essential things, you can do to help your small business continuity is decreasing risks and vulnerabilities. Being made to accommodate your operations fast and for a seemingly indefinite interval may draw your focus away from critical risk management processes.
One such step is shifting critical functions such as your client relationship management program, bookkeeping, and vital information to the cloud. With essential surgeries secure and remotely reachable, you can concentrate more on the daily functioning of your recruiting agency throughout the Coronavirus outbreak. Now is also a fantastic time to review your insurance coverage regarding events and business excursions. If you are planning a hiring occasion or your recruiters typically travelling a fantastic bargain for meeting clients, these can be cancelled — or become digital, in the event of the hiring event.
Check that financially using all these changes in programs. Services such as International SOS and WorldAware will help you handle your organisation's travellers.
Wrapping Up — Assess Your Enterprise Continuity Plan
With those five actionable measures, you are on your way into a working, crisis-mode recruitment firm. But carrying out these measures will not be sufficient to secure your service in the long run.
For this, you have to examine your business continuity program. When you haven't upgraded it in some time and are not sure it will be applicable through the Coronavirus outbreak, then you are not alone."
Who is Angela Bradby?
Angela Bradby founded Link Resources in 2013 after identifying a need in the market for an end-to-end Human Resources service business that actually understands and can meet the demands of the Resources Sector and Heavy Industry. Link Resources is one of the top consultancy services.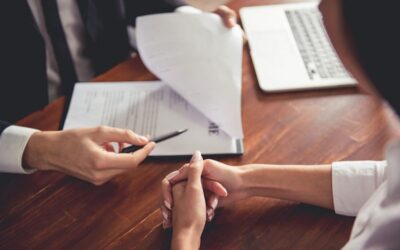 Not everyone is honest when it comes to applying for jobs. Stretching the truth on a CV or cover letter isn't unheard of, but it does present some problems for recruiters who are looking for the right person.In 2017, Robert Half released results from a...